Asset Protection Insurance
---
Program Overview
Georgetown's Asset Protection Insurance provides a cost-effective alternative to full-service vendor maintenance contracts. The program pools equipment from across the University and administers maintenance and repair costs according to the program's terms and conditions. Departments can save up to 40% annually on equipment maintenance costs.
Typical Equipment Covered
Research Laboratories
Security
Communication Systems
Printing
General Office
Mail Room
Information Technology
Advantages
The program offers departments a lower fixed cost for equipment repair and preventative maintenance compared to a full-service contract. It also simplifies the administrative burden of managing multiple service contracts with varying expiration dates, terms, and conditions.
How It Works
Departments pay an annual premium to cover equipment repairs and preventative maintenance service. All equipment repairs are made by the department's vendor of choice. The coverage provided includes the terms and conditions of a full-service contract with the vendor. Equipment can be added or removed at any time and all costs are pro-rated based on the fiscal year. To add equipment during the fiscal year, departments must complete the Quote Request form.
Maintenance & Repair
When preventive maintenance or a repair is needed, the department requests a purchase order from the program administrator. The department will be given a purchase order. The department can then contact the vendor of its choice to perform the work. After the invoice is received, the department must validate the work done. Risk Management maintains a cumulative listing of expenses and premiums for each instrument in the program.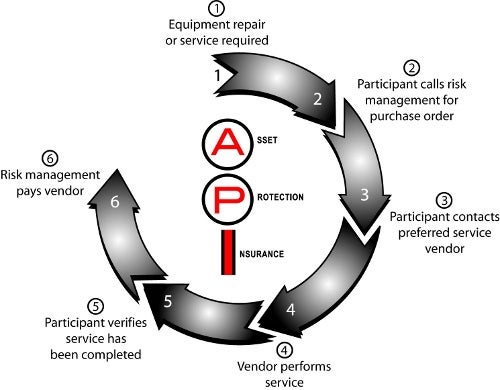 Joining the Program
Departments interested in the program are requested to provide a copy of a service contract proposal from an equipment vendor. Contract proposals are evaluated based on the age and type of equipment, terms and conditions, and the potential financial risk it presents to the program. Once Risk Management determines the equipment can be accepted into the program, the department is offered an annual service contract quote.
If you have questions, please call the program administrator at 202-687-6622. To submit information, please email the program administrator at assetprotect@georgetown.edu.
Renewal Process
The program renews annually on July 1. Prior to renewal, departments receive a renewal proposal from Risk Management for the upcoming fiscal year. Pricing for the renewal is based on the vendor's proposal.